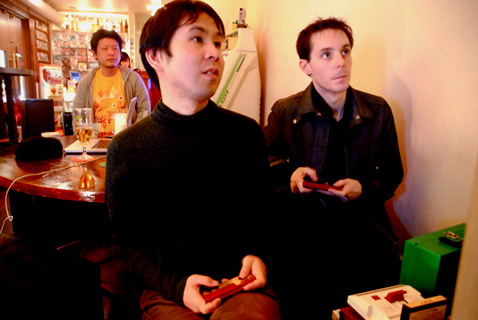 Tatsuma Murase (Q-Games), Daisuke Amaya (Studio Pixel) and Rowan Parker (Q-Games) playing 2-player TwinBee at Kyoto's Cafe la Siesta
Over the course of five years, Daisuke Amaya created an ambitious PC adventure game in his spare time. The vividly drawn characters and fluid gameplay of Cave Story, not to mention its catchy melodies, attracted a dedicated following.
Amaya's solo efforts at Studio Pixel attained mainstream recognition last year when Cave Story was the subject of a Game Developers Conference lecture in March. Following its release on Nintendo's digital services WiiWare and DSiWare, Amaya entered into an agreement that would produce a Nintendo 3DS remake, published by NIS America.
For the new iPhone port of casual game Azarashi, the early Pixel publication has been redesigned using contemporary software tools like PxTone Collage. As Amaya focuses his efforts on developing the iOS action game Rockfish in Kyoto, the latest release represents both a nostalgic look back and a teaser for things to come.
Azarashi iPhone play movie

Like many indie game designers, Daisuke "Pixel" Amaya treasures his early memories of gaming. He recalls playing the cooperative Famicom shooter TwinBee at a friend's house years ago, the sensations so vibrant that even today the subtle sounds and smells of the moment return to him.
At school Amaya spent time between classes drawing sprite art on graph paper intended for math assignments. Upon graduating, he enrolled in a computer training course in Osaka, which became his first experience meeting aspiring game designers. His classmate Nao he credits with teaching him the fundamentals of coding that allowed him to create without any assistance the seal-keychain-darts game Azarashi.
Amaya has maintained his friendship with Nao to the present, which informs his most ambitious projects at Studio Pixel. When the game designer was invited to speak at GDC, his first draft was presented to his friend for feedback. Nao, having attended many lectures on the subject, promised to be candid in his response. Remaining true to his word, his verdict was "boring."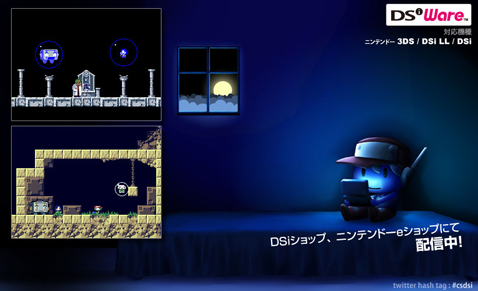 La-Mulana publisher Asterizm brought Cave Story for DSiWare to Japan
"We discussed the presentation in depth and made many revisions together," Amaya explains. "Initially I was planning on speaking the whole time, kind of in the style of a university lecture. Nao convinced me that instead of making the audience stare at a blank screen that I should make use of images and game footage. He knows how disappointing it can be to have to sit through a lecture that is not engaging, so he was looking out for me and wanted to help my GDC talk go over well."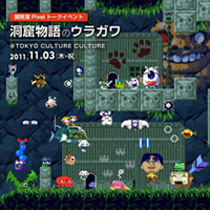 When "The Story of Cave Story" was delivered in one of the Moscone Center's largest auditoriums, it thoroughly incorporated the constructive criticism.
The talk paved the way for last year's Tokyo fan event "Behind the Scenes of Cave Story," moderated by freelance game writer Hayato Ikeya. To offer a show of support, Asterizm director Shoji Nakamura, a key player in bringing La-Mulana to WiiWare, manned the overhead projector.
Amaya has gradually become more of a public presence, even as he maintains his modest, even self-deprecatory habit of downplaying his rare accomplishments.
Azarashi was first published on December 1, 1998 for the PC. It dates back to when the game creator was still a student and its development process was free of strife. "On Rockfish, there are many things that are challenging and difficult," he says, "especially in terms of programming for the iPhone controller." The designer describes porting Azarashi as a chance to revisit a carefree creative mode, while simultaneously getting some hands-on experience with the Apple Store submissions process.
One surprising aspect of Azarashi is its mildly violent imagery. Those who have played Cave Story might be reminded of its various tragic moments, suffered by adorable creatures. Amaya says that despite some images of blood, he feels Azarashi is appropriate for all audiences.
"Depending on your personality, maybe you might not want to show it to your children," he says. "It's the kind of thing you need to talk about when you're submitting your iPhone game to the Apple Store. Are there references to sex and drugs? That kind of thing." Azarashi is rated 9+ for players over nine years old.
The most noticeable change to the port can be found in its musical arrangements. While still a student, Amaya created a custom music engine called PiyoPiyo, which he used to make the Azarashi and Ika-Chan soundtracks. The iOS game features the same melodies as before, but this time utilizes Amaya's PxTone Collage software and an unreleased iPhone plugin he calls "pti." Two instruments are used for the drums and four for the melody, which would have been beyond the means of PiyoPiyo.
PxTone, which is being used in the development of Rockfish, has inspired an entire online community. Amaya says he enjoys the albums by American chiptune artists George and Jonathan, (especially the free download on the latest release,) created using the sound creation tool. Last month the musician Zebra uploaded a free PxTone album called Ridley's Bifurcation, available both as lossless audio and .ptcop source files.
While Azarashi represents another in a series of solo efforts, several contributors chipped in on language localization. Tyrone Rodriguez of Nicalis supplied the English translation, while the Spanish was provided by Jose M. Iñiguez of Akaoni Studio, the makers of Zombie Panic in Wonderland.
"The nice thing about making a small game is that you can reach your goals much quicker," Amaya says. "I feel I've achieved a degree of quality this time that surpasses the previous release of the game."
For more information on the making of the Cave Story music score, see our 2011 GDC game composer chat. Photo and translation by Jeriaska.