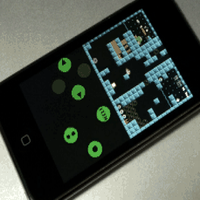 From Cave Story dev Daisuke Amaya (Pixel) comes IGF 2012 entry Rockfish, a mobile game where the player assumes the role of a small fish deep in the ocean. Rockfish combines elements from Cave Story and Ikachan into an underwater action-adventure. Like Cave Story, Pixel is creating everything himself, including the music.
Through an exchange of emails, Pixel answered various questions about what could become the iOS equivalent to Cave Story in epicness. While Rockfish is still far away from being finished, Pixel has shed some light on the game, its mechanics and some thoughts on iOS development.
As for the inspiration behind Rockfish, Pixel says that he thought first about creating a submarine action game. However, since he doesn't really know about submarines, he decided on a fish instead.

Pixel said that for Rockfish, he's combined the underwater setting of Ikachan with the roaming gameplay of obtaining weapons from Cave Story. The fish players will control will have different abilities, though Pixel only mentions projectiles for his attacking abilities, with the first one probably being a bubble.
Upon looking at the HUD of Rockfish and seeing the store run by the cute frog, I asked Pixel where the coins come from, and more importantly, where the fish stores all these coins. While I suggested the fish's fins, Pixel jokingly replied that he hadn't yet thought whether the fish had something like a wallet or not. However, he confirmed that upon defeating enemies, they drop coins for the fish to get.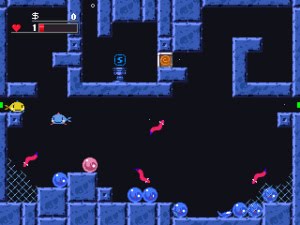 Pixel mentioned in his blog that he's observed among iPhone users a shorter attention span, which requires a different design approach to be effective. His efforts are being spent in making it such that as soon as someone plays, the game's interesting points are conveyed. However, he feels that since it takes some time to get used to touch controls for an action game, he has several things to consider.
I asked Pixel about his choice of virtual controls, and whether that was the only control scheme. He didn't confirm it as the only scheme (the header image suggests it's highly likely), but he said that he has had several people who have not used the iPhone much before playtest the game. Based on their feedback, he is carefully refining the controls.
While Pixel hasn't yet fully decided on an English translation for the upcoming Rockfish, he says he intends to do so. The release date is still up in the air at this point, but he feels that it may be after summer. I confirmed that this would only be for iPhone for the time being, despite Pixel saying that there seems to be more Android users than iPhone users in Japan.
I wondered what meaning and purpose Rockfish held for him as a creative piece. Although Cave Story is really famous, for him it has that "is this it for me" kind of feeling. Therefore, he wants to make Rockfish the kind of game that gives him just as much self-confidence and esteem. He also shared that the lesson he learned from making Ikachan and Cave Story is that once completed a game ends up being different than what he originally set out to make.
Rockfish will be a major defining moment for Pixel, as he quit his life as a salaryman earlier this year to become a full-time developer.
Already skilled at the art of tantalizing and juggling multiple projects, Pixel shared that he has taken a brief break from working on Rockfish, and is now working on a new game to test out the Apple market. A quick glance at his blog reveals what I believe is an iPhone port of Azarashi. Those who are curious and don't mind the occasional arrowhead through a seal, check out the below video to see what the gameplay is like. Those who want to skim through WIP photos of Rockfish can see them on Pixel's blog.

[Our original Japanese text here, translated by myself with a couple pointers by Josh Weatherford.]